The Arts
The Song Thrush Tea Selection Tin - Teal
Product Information
Description
The Song Thrush Tea Selection Tin is a beautifully crafted tea tin, perfect for tea lovers who want to indulge in a variety of flavors. The tin comes in a beautiful teal color that adds a touch of elegance to any kitchen or dining area. The design on the tin is inspired by William Morris, a prominent English artist, and designer known for his intricate patterns and vibrant colors.
Inside the tin, you will find an assortment of premium tea blends that are sure to satisfy your taste buds. This tea selection gift offers 72 teabags including English Breakfast, English Afternoon and Earl Grey blends. Each tea blend has been carefully selected for its unique flavor profile and quality, ensuring that you enjoy the perfect cup of tea every time.
The Song Thrush Tea Selection Tin is the perfect addition to any tea lover's collection and makes for a thoughtful gift for any occasion.
Size & Style
The Selection Tin
A traditional rectangular tin including a selection of signature tea blends. The perfect tin for gifting.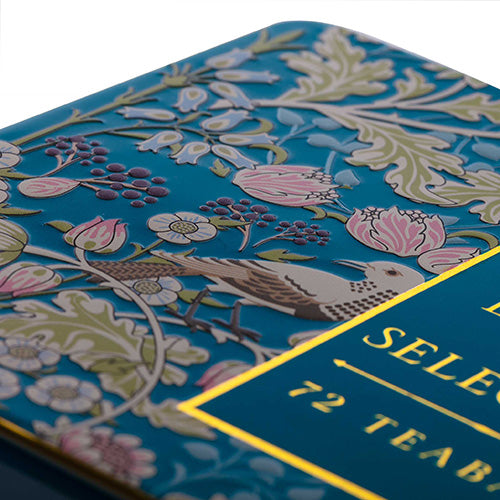 An Affordable Luxury
In addition to its aesthetic appeal, the Song Thrush and Berries Tea Tin is also practical and convenient. The tin is made from sturdy materials that will keep your teabags fresh and protected from moisture and light. The airtight lid ensures that your tea remains fragrant and flavorful until the last cup.
Beautifully Detailed
Designed with love and intricately detailed, we've something for every home and every occasion. Choose from our wide range of surprisingly affordable luxury tins.
Exceptionally Giftable
Whether you are looking for a thoughtful gift for a loved one or simply want to indulge yourself, the Song Thrush and Berries Tea Tin is a perfect choice. It combines exquisite design, premium quality tea, and unbeatable convenience, making it the ultimate tea accessory for any tea lover.
Exceptionally Giftable
Our products are designed with gifting in mind. Mark your order as a gift and we'll include a free gift message with every order, inside one of our luxury greeting cards.
The Song Thrush Tea Selection Tin - Teal
with a 72 teabag selection